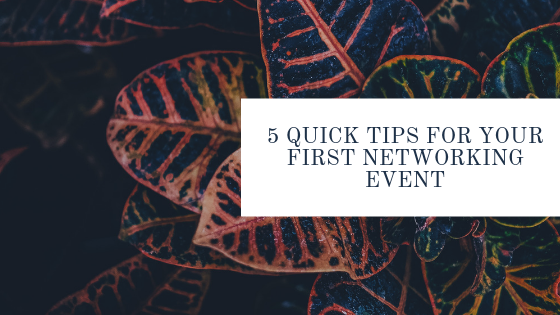 5 Quick Tips for Your First Networking Event
I attended my first networking event and panel yesterday, and it did not go as well as I'd hoped (in terms of actually networking). Starting cold conversations has never been my strong suit, and it became apparent the second that I stepped into the event space. I did learn a lot from my mistakes. Without further ado, here are my 5 tips to not be a total loser at your first networking event…
Show up early. At the very least, show up on time. I mistakenly thought that being the first one to the event would be awkward, so I waited in my car for 10 minutes. (I then proceeded to get lost, which killed an extra 10 minutes). By the time I entered the event, packs had formed and it was hard to identify where I could interject.
Prepare yourself! At the bare minimum, bring a pen and a small notebook. If the event is also a panel or features a speaker, make sure to include the speakers' names, professions, and any relevant questions for the inevitable Q&A portion. Bring business cards, if you have them, and have your 15-second elevator pitch ready to go.
Bring a bud. My biggest regret is not bringing a wing-woman. Generally speaking, the advice I've seen online has been to go solo to these events. I disagree. I find that I do better in social situations when I have someone with me that can enhance my personality.
Travel light. I mentioned earlier that you should bring a notebook, pen, and business cards. Make sure all of these things can fit in your bag. It's a hassle to try to socialize with a ton of things in your hands. It limits your ability to be animated and may make you feel weighed down.
Breathe. This is probably the most straightforward tip, but it's definitely the hardest. Remember to breathe. You're a strong, powerful person and you need to exude that energy. If you need it, grab a drink at a nearby bar or restaurant to loosen you up. Then go in and crush it!