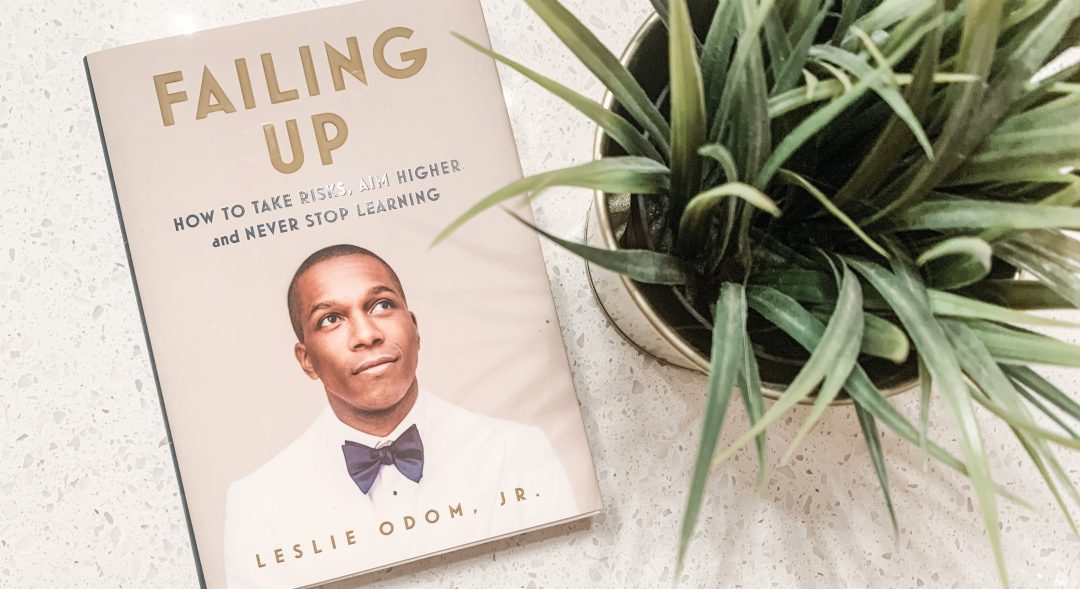 Recap: Failing Up by Leslie Odom Jr.
Did you miss book club on 9/5 where we discussed Failing Up by Leslie Odom Jr.? You can still watch it on the Promotions & Prosecco Instagram or read a quick recap here!
Failing Up is the first book by Hamilton star Leslie Odom Jr. In it, he goes through his journey to landing the role of Aaron Burr and in the end, his decision to leave the show.
For all of you theatre kids
The first thing I loved about this book was his clear passion for theatre. Leslie beautifully describes his experiences seeing and being a part of shows. This really hit home for me, a former high school theatre kid. In an early chapter, he describes seeing the musical Rent for the first time. From the front of the theater, he notices a small moment shared between two members of the cast. He recalls how he got a small glimpse of the offstage friendship between the two and how it melded into their performances.
Moments like this were absolutely one of my favorite aspects of being in shows. I can't think of a single show that I was in that I didn't have some inside joke with one of my friends in the cast. We'd make faces. We'd ad-lib small lines that only we could hear. I wish I had thought to look for that when I was a kid going to shows for the first time.
The Life Lessons of Failing Up
It's hard to not come out of this book with some valuable life lessons. The importance of mentorship is one of the main lessons. It quickly becomes clear that without any of the mentors he acquires at specific points in his life, he likely wouldn't have achieved as much as he has. Starting with his teacher who gained his respect and encouraged him to write and perform. All the way to his father in law who talked him into postponing his departure from performing.
At age 29 we experience "Saturn's Return". Basically, Saturn returns to the same spot it was in when you were born and makes you start questioning your life. At this stage, Leslie Odom Jr. decided that he might want to quit acting. His father-in-law and mentor told him that he could absolutely quit if he wanted, but he should actually try first. At that point, Leslie was responding to things that were brought to him, but he wasn't actively looking. This is a terrific lesson on how we can get ourselves unstuck. A lot of the time we become passive with things in our lives. To feel fulfilled, we need to take an active role. At the end of this chapter, he provides a few prompts to help us do this.
"What are you ignoring today? What did you do to help yourself today? Who did you call? What did you read? Did you take one step toward something that makes you come alive today?"
I don't want to spoil too much of the book for you. If you're interested in hearing more about the lessons Leslie Odom Jr. has learned in his life or you just want to learn more about him, DEFINITELY check out Failing Up.