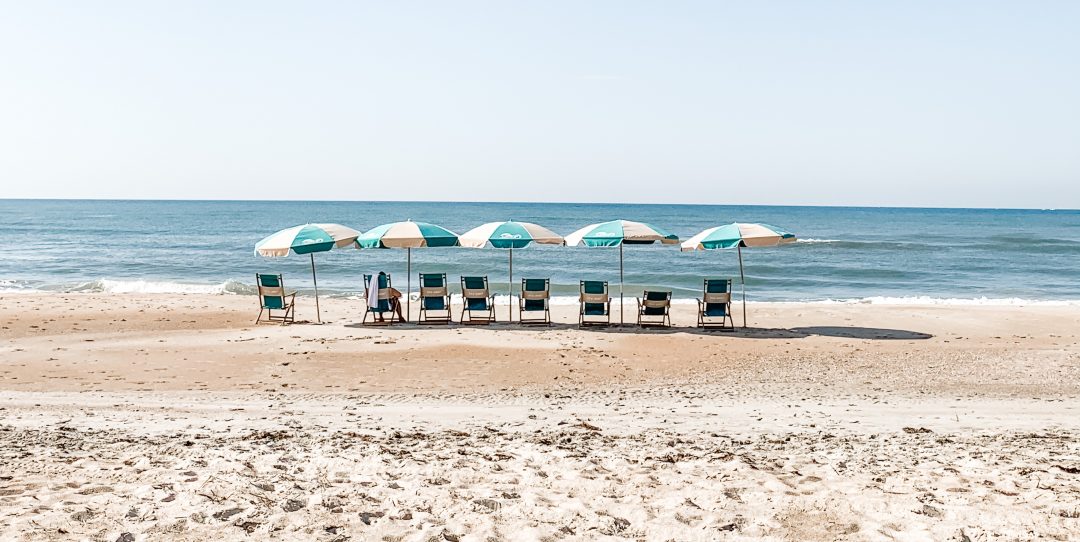 Beach Please: Emerald Isle, NC
Last month I went on a week-long vacation with my family to Emerald Isle, NC. My family has been going on this trip almost every year since my mom was 18. Because I've gone there my whole life, it holds a special place in my heart. Emerald Isle is a town on Bogue Banks Island off of the coast. It's roughly 3 hours from the Raleigh airport and near Swansboro and Beaufort.
Things to Do
General Beach Activities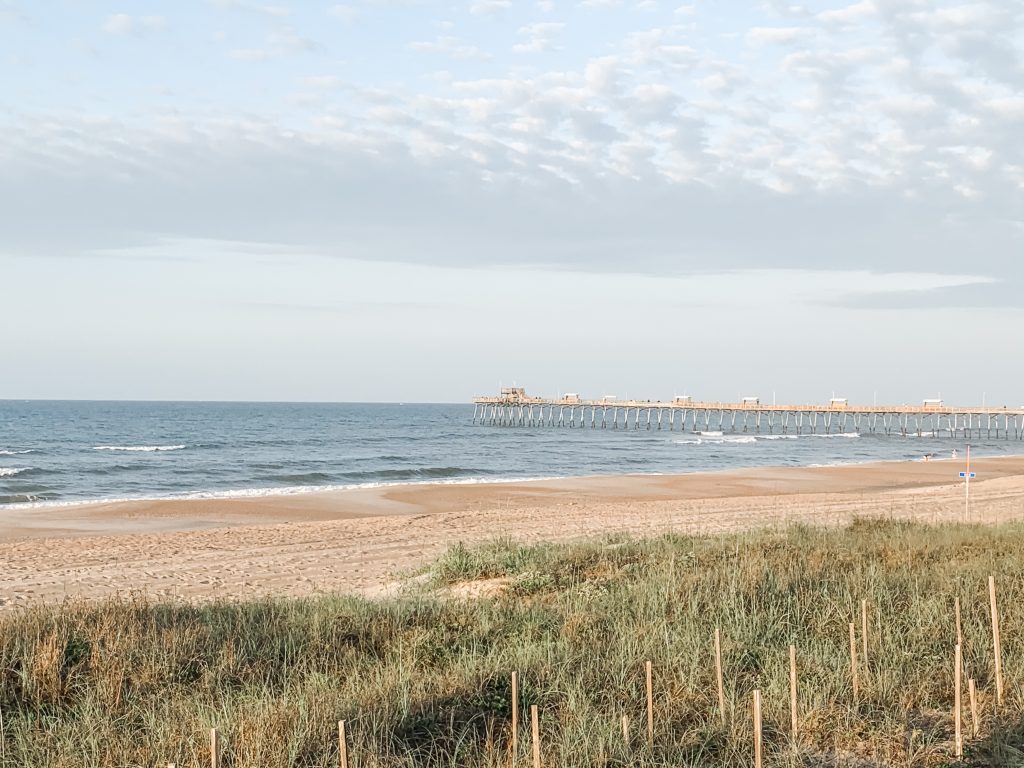 I feel like most of you can figure out what you can do at a beach, but I'll hit some highlights for you in case you don't. My main activities are jumping in the waves, walking the pier, playing catch in the sand, and doing sunrise yoga. Your options are pretty endless here though. You can get jet skis, kayaks, kites, boats, boogie boards, etc. Fishing is a pretty big activity here. People fish off of the pier, on boats for deep sea, or just from the sand.
For all of you west-coasters, the water here is significantly warmer than California so you can find yourself spending hours in it if the waves haven't knocked you around too badly.
There's plenty of shopping available in Emerald Isle and the surrounding cities. My favorite one is Emerald Isle Books and Toys. I make sure that we stop by (at least once) every time we're there. It's a cute local bookstore that has looked the same my whole life, which is probably why it feels like home to me. There's a great variety of options. The last few trips I've come out with a book on career development, true crime, and poetry. I made a second trip in this time around and snagged a cookbook too! If you don't want to take my word for it, just read the review above from a kid that stopped by last year.
Emerald Isle Books and Toys is in a shopping center, so you can spend a nice few hours popping into all of the shops and come out with some cool gifts or some fudge (my personal favorite).
The other big shopping option here is the beach shops. Obviously. There's basically one every few feet and a lot of them look like the same place. Wings, Pacific, and Colors are all in buildings with the same design and have the same marketing strategy. Colors does have an ice cream and candy parlor inside though! There's also Bert's Surf Shop, which has some nice quality beachwear and some beach sports gear like surfboards, skimboards, and bicycles.
Mini Golf
We didn't go mini-golfing this time, which was a bit surprising. It's a nice activity that the whole family can do (all 12-16 of us). Emerald Isle actually has a few different options. We have mostly gone to Golfin' Dolphin over the years since they also have a driving range and go-karts. In the last few years they've also added a bowling alley, but I haven't actually bowled there.
Other options for putt putt are Emerald Forest Putt-Putt, Hawaiian Thunder Mini Golf, and Professor Hacker's Lost Treasure Golf and Raceway. We've probably gone to all of these over the years and I can't remember ever being disappointed, but that could just be because I always win when we go.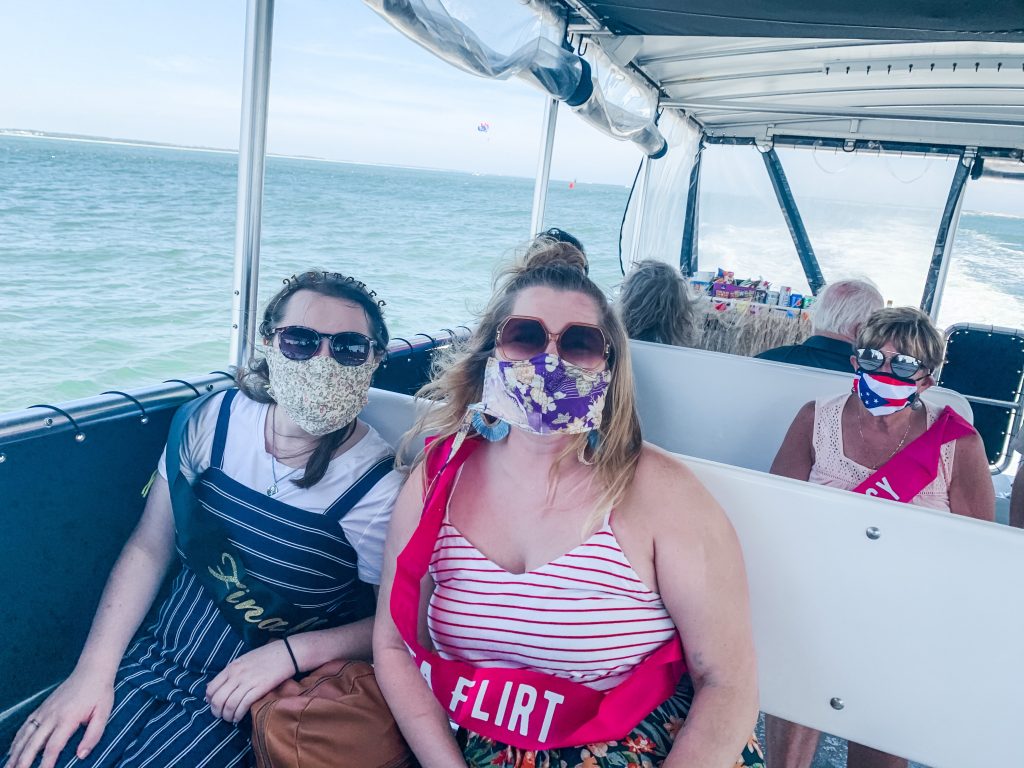 Part of my family trip always includes a visit to Beaufort, which is a neighboring city. This year it was my cousin's 21st birthday, so we did a ladies trip to Beaufort and did a boat tour. (Before you ask, my sash says "Fiesta Flirt" and my grandma's says "Hot & Spicy".) The boat took us to an island to see horses, a spot that has dolphins but we didn't get to see any, and around the area to learn about the different restaurants and lifestyle of the area. My favorite part was when the boat was zooming and we hit massive waves. The old ladies didn't love that part, but I had a blast downing my mini bottle of wine while water was splashing all over. There was also a pirate cruise for families and my aunt mentioned a "hot pirate cruise" for bachelorette parties. Obviously I would have picked the hot pirate cruise, but I was overruled.
Historical Spots
There are a few historical tours you can take around Beaufort if you're a history buff. I feel like it was mostly relating to the Civil War, but it also includes pirate stuff since there are a number of spots in Beaufort where you can learn about Blackbeard. My favorite historical spot is the Old Burying Ground. You can now do an audio tour through an app, but when I was younger we went on a tour with a guide. Some of the most memorable stories include the soldier buried standing up in a salute, the child buried in a wine barrel, and the grave of an unnamed girl which is covered in toys from visitors.
Places to Eat
If you know me, you know that I am obsessed with dogs. This is normally the spot to see them (other than the beach of course). Unfortunately I didn't see any dogs inside this trip. Muttigans is a great combo spot where you can grab coffee or a pastry for you and some goodies for your pups. Whenever I'm here, I make sure to grab another bag of CBD dog treats for my skittish chihuahua and flavored latte. This time I got a s'mores one and it was heavenly. The people who work here are super knowledgeable about their products and just generally lovely. If you want to grab a coffee and maybe a gift to bring back to your pets, definitely make sure you go here.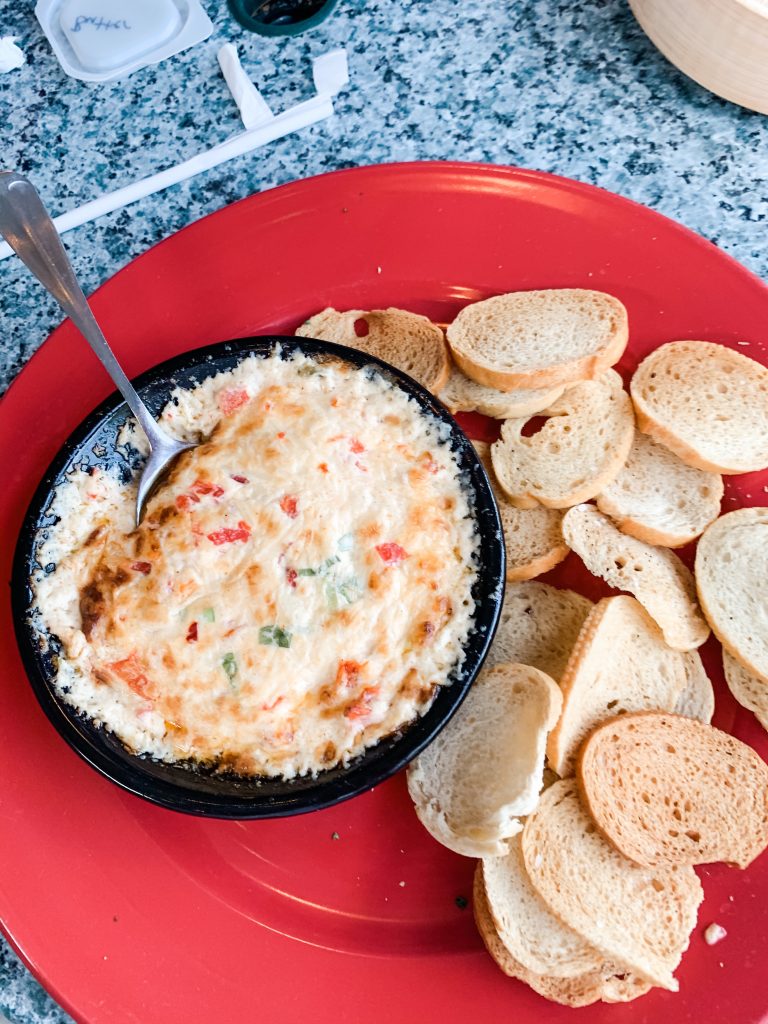 I was so nervous to eat here, mainly because the restaurant is literally mosquito themed. That means there are paintings and sculptures of mosquitos, mosquito netting, and rainbow holiday lights as decor. The food was INCREDIBLE. I did a full 3 courses and was in heaven. They start you out with a bread bucket that had 3 types of bread: Firecracker bread (think a thin cracker with parmesan cheese and a little kick), baguettes, and the best cornbread I've ever had. Because I am a lover of lobster, I HAD to get the lobster cheese dip appetizer. For the entree I had the mixed seafood grill which had tuna, shrimp, and scallops. To tie the whole meal together, I had their peach cobbler.
I mentioned earlier that we were celebrating my cousin's 21st birthday this trip. One of her favorite restaurants is the Beaufort Grocery Co. Last year we went for dinner and I fell in love. We had ordered the Saganaki as an appetizer, which was cheese flambéed with brandy, and you can probably imagine how delicious that was. This time we stopped in for lunch. I had the Sonnamabeach sandwich, which is basically an Italian sandwich, with homemade sweet potato chips. SO GOOD. If you're in Beaufort, I would definitely recommend grabbing food here. I do want to warn you to plan an abundance of time though, since both times I've gone the service has been pretty slow.