Get the Most Out of a Weekend in Flagstaff
I've lived in Arizona for a little over 10 years now, but I've surprisingly not spent a lot of time in Flagstaff. I've gone up for a few ski trips, a college tour, and an interview. Unfortunately, none of those trips really allowed for any real exploration of the town itself. Shaun on the other hand went to NAU for a few years. We've talked about doing a trip up together since we started dating, and last month we finally took some action and drove up for his birthday. We had a ton of fun, so I thought I'd share how to make the most out of a weekend in Flagstaff.
Sleep Tight
Our first stop, like on every trip, was to our hotel. We stayed at the Hilton Garden Inn because the rates were the lowest and it was super close to the University and downtown. Since we were traveling during the pandemic, we were happy to see that clear precautions were taken. To swim in the indoor pool and hot tub, you had to call the front desk and schedule an appointment. Hilton also offered contact-free check in and check out. There was a sticker across the door letting us know that no one had entered it after it was cleaned. The room was definitely clean and it was super cute. We had a nice view of some trees, which was something nice since we don't normally get to see them. Overall, would recommend this hotel.
One of the classic ways to do a week or weekend in Flagstaff is to rent a cabin or camp, but that didn't fit the vibe of this trip for us. Maybe next time!
Grab a Bite to Eat
Let's start with brunch, the most important meal of the week. We made a quick decision to go to Brandy's Restaurant & Bakery and thank God we did. Fun fact, they were on Diners, Drive-Ins, and Dives! The decor is a rotating are exhibition. While we were there, they had custom skateboard decks on the walls. Super cool!
The food was also delicious. Their specials for the day seemed to be catered to me. I was able to order avocado toast with prosciutto AND broccoli potato cheddar soup. If that wasn't enough, I also ordered a mimosa flight. I was truly living my best life!
There is also a pastry case and coffee shop in the front, so if you just want something quick you can get that here too! This is where I would recommend starting your weekend in Flagstaff.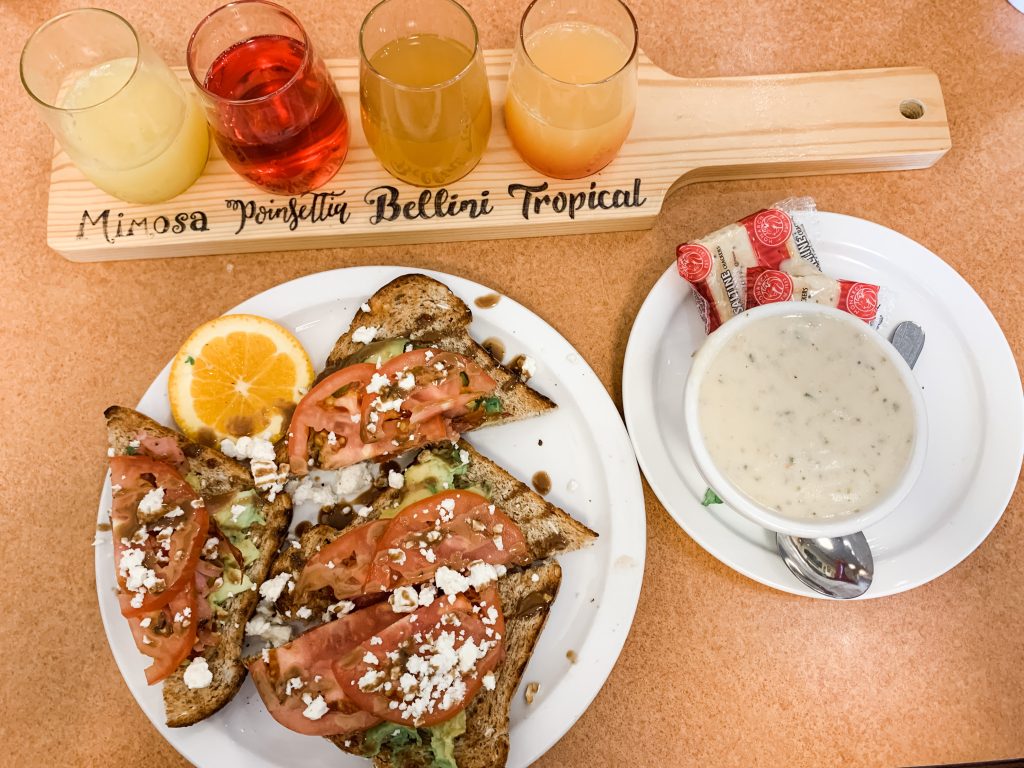 For our late lunch/dinner on our first day, we stopped at Diablo Burger which was Shaun's only requirement when he found out we were going to Flag. It's located right in the middle of the main strip of shops downtown. Because of COVID, they had a limited menu and were only offering food to-go. Good news though, the weather was perfect that weekend so we were more than happy to enjoy our burgers at one of the picnic tables outside. I think all of us ended up ordering The Marilyn burger. The burger was a bit smaller than I was expecting, but they are really generous with the fries. Overall it was delicious!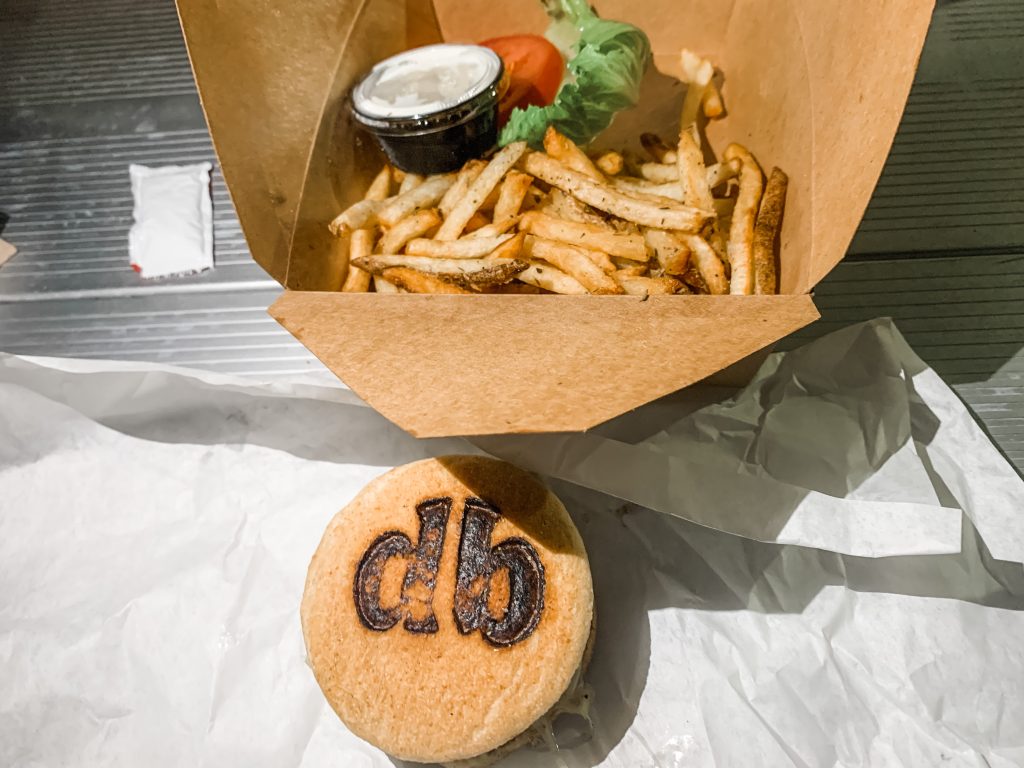 The next day we decided to sleep in and then head back downtown to walk around and eat lunch before driving back home. We picked Bandera Craft Tacos. Once again, they weren't doing indoor dining because of the pandemic, but they did have a designated area out front specifically for their customers. It's seat yourself and was pretty busy, but we lucked out and a table opened up right as our food came out. I ordered the 3 taco combo with a fried fish taco, adobo taco, and carne asada taco. They were pretty to look and and tasted yummy.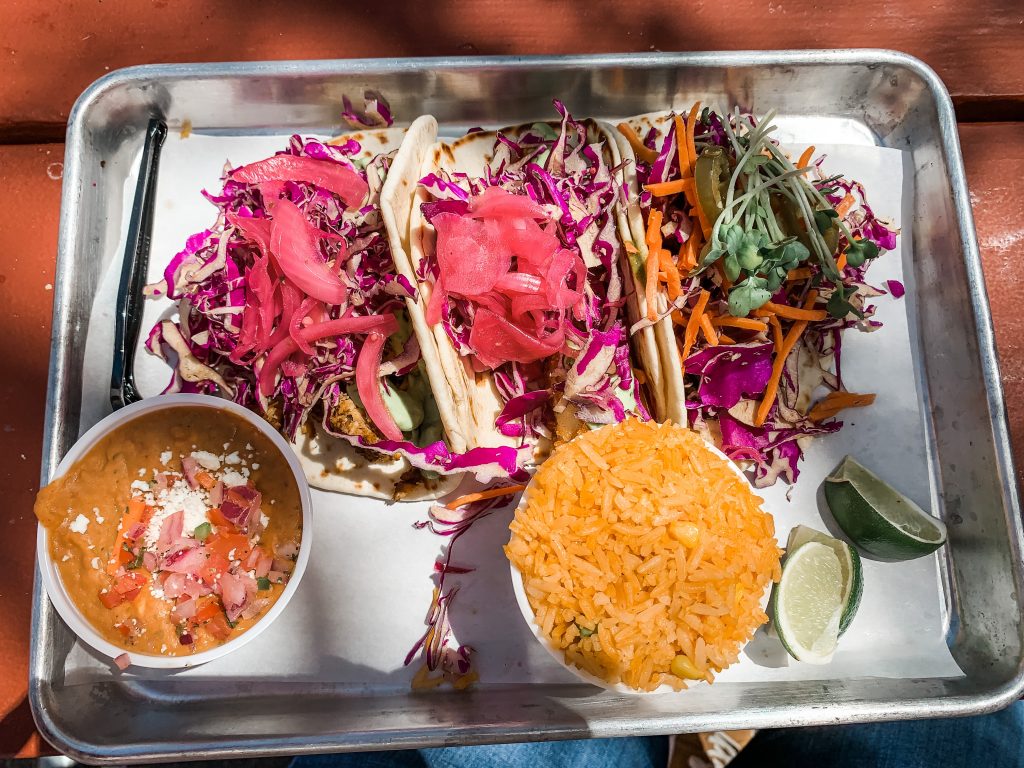 Where to Drink
We ran into a couple-friend of ours during our weekend in Flagstaff, so we obviously had to grab a few drinks together. Our first stop was the McMillan Bar & Kitchen downtown. We were a bit hungry so we ended up ordering spinach-artichoke dip that came with the best pita I've ever had. Seriously. It was to-die-for. They had a pretty decent size cocktail menu and beer list. I tried both of the two gin cocktails on the list, one of which was mostly beets. (In their defense, the title of the drink was the "Beeting" and I ignored that and ordered it expecting there to be no beets.) The Benny was really good though!
Later in the evening, we made sure to head to Whisk & Whiskey, as Shaun is a huge fan of bourbon. This one is a short drive away in the Grove. Its right in between a nice shopping area and across from a Crumbl, so if you want after-drink cookies, you're in luck! I ordered the Wolf of Butler (a gin drink that our waitress said was her favorite on the menu) and Shaun ordered a whiskey sour. If you're a big whiskey fan, they also offer flights and a pretty extensive whiskey selection. The food also looked and smelled really good. I caved and ordered shishito peppers. They were hitting the spot until I ate the spiciest pepper I've ever had in my life. So be careful if you go that route.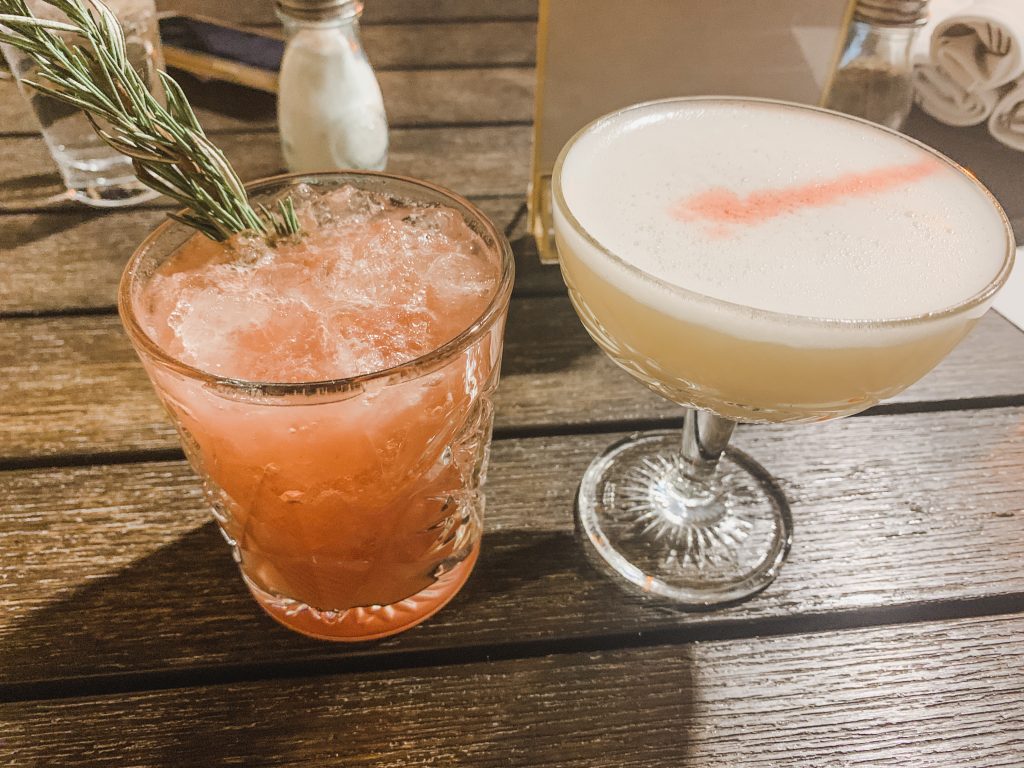 Is alcohol not your thing? That's totally cool. Flagstaff has a fair amount of coffee shops, if that's more your speed. For this trip, we decided to stop by Matador Coffee Roasting Company. I'd absolutely recommend this place and I think a ton of other people would too since they were SLAMMED the whole weekend. There are two options to get your caffeine one. You can either go through the drive through in front of the coffee shop or you can walk in and order.
We opted to park at the motel next door and walk up. We waited in line for a bit as they served one customer inside at a time and sterilized everything in between each one. Once you had your coffee you could peruse their shop or go fine a seat on their patio. I ordered an iced decaf thin mint latte and, as you can guess, it was fabulous. If you can time it right, definitely plan to grab your coffee here.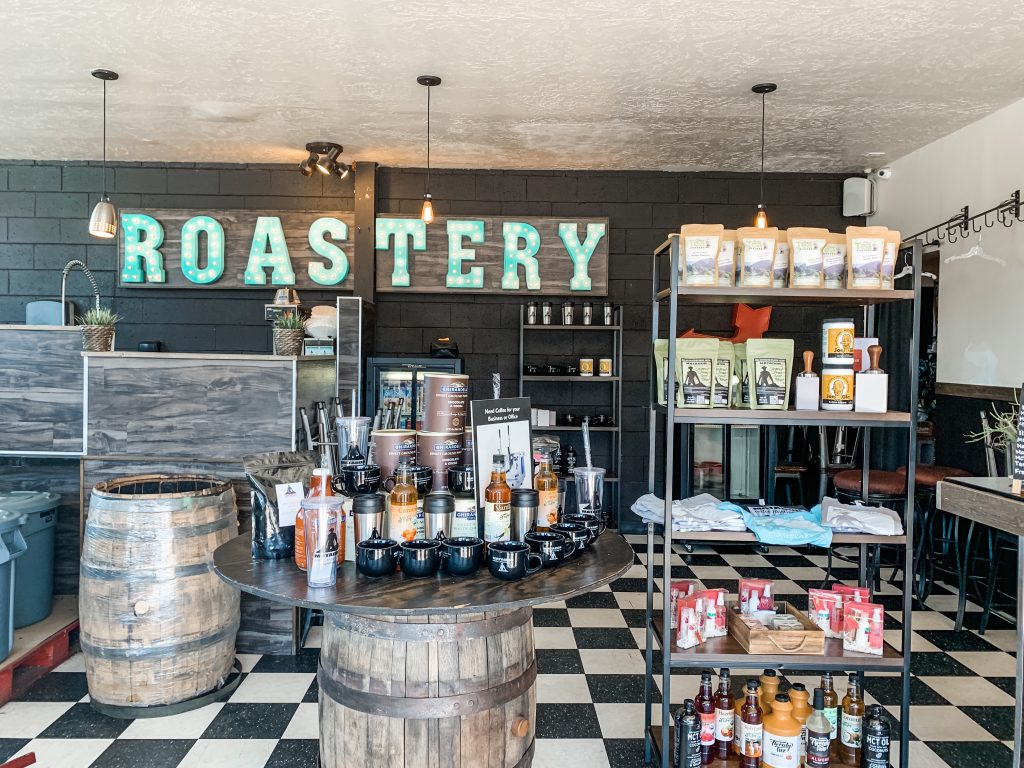 But what can I actually do during my weekend in Flagstaff?
There's plenty to do in Flagstaff. Hiking, Lowell Observatory, and the Arboretum are pretty popular options but we didn't do those on this trip.
Our first big activity was walking the entirety of Northern Arizona University. Shaun showed me where all of his friends lived, where his classes were, and told me stories about random spots around campus. Even if you don't have your own personal tour guide, NAU is still a nice place to walk around and explore. If you pop over to the stadium, you can also take a picture with one of the two giant lumberjacks.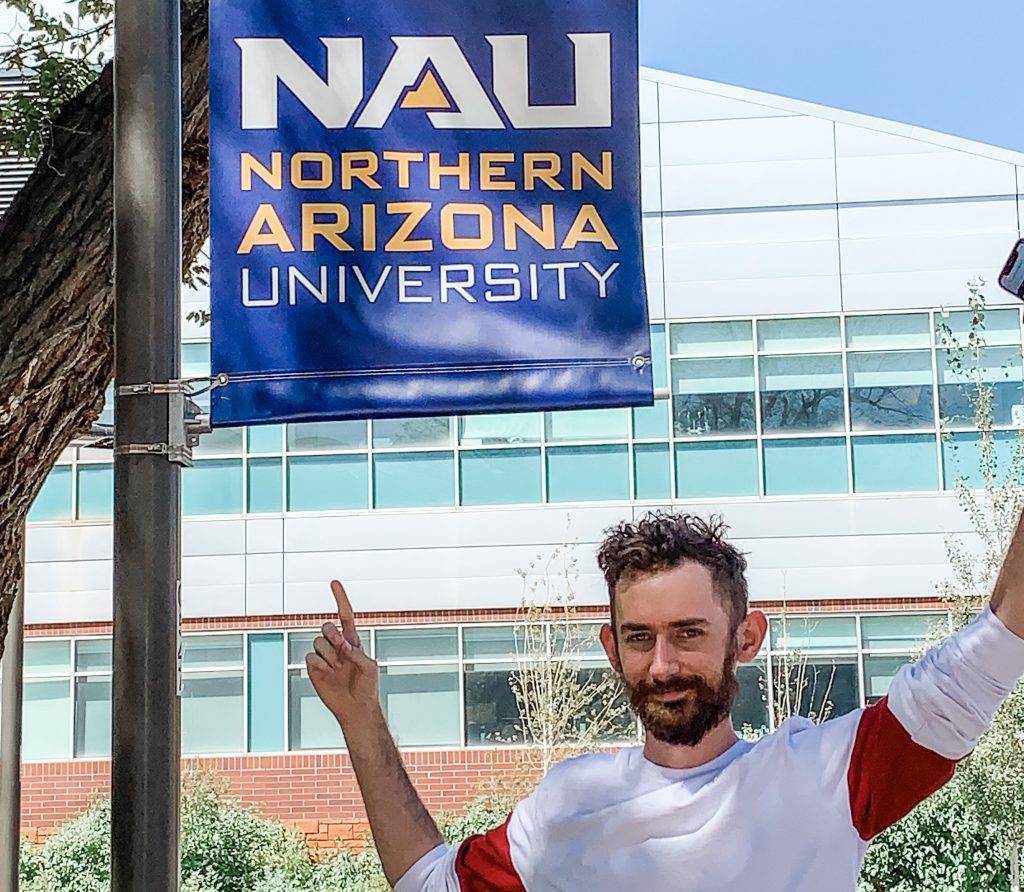 Our other big activity was walking around and shopping, primarily downtown. We had to hit a Bookmans, I fell in love with Bookmans in Tucson, and was super excited to find one in Flagstaff. It's like a consignment shop for entertainment items. I was able to pick up two books that had been on my list for a while: The Happiness Project (this month's book club selection) and The Vanishing Half.
There were two big shops downtown that I fell in love with. The first, which is probably not a surprise to anyone, was Bright Side Bookshop. Local bookshops are everything to me and I refuse to go on vacation and not visit one. I picked up a copy of The Office: The Untold Story of the Greatest Sitcom of the 2000s: An Oral History. I didn't even know it existed before I stopped in!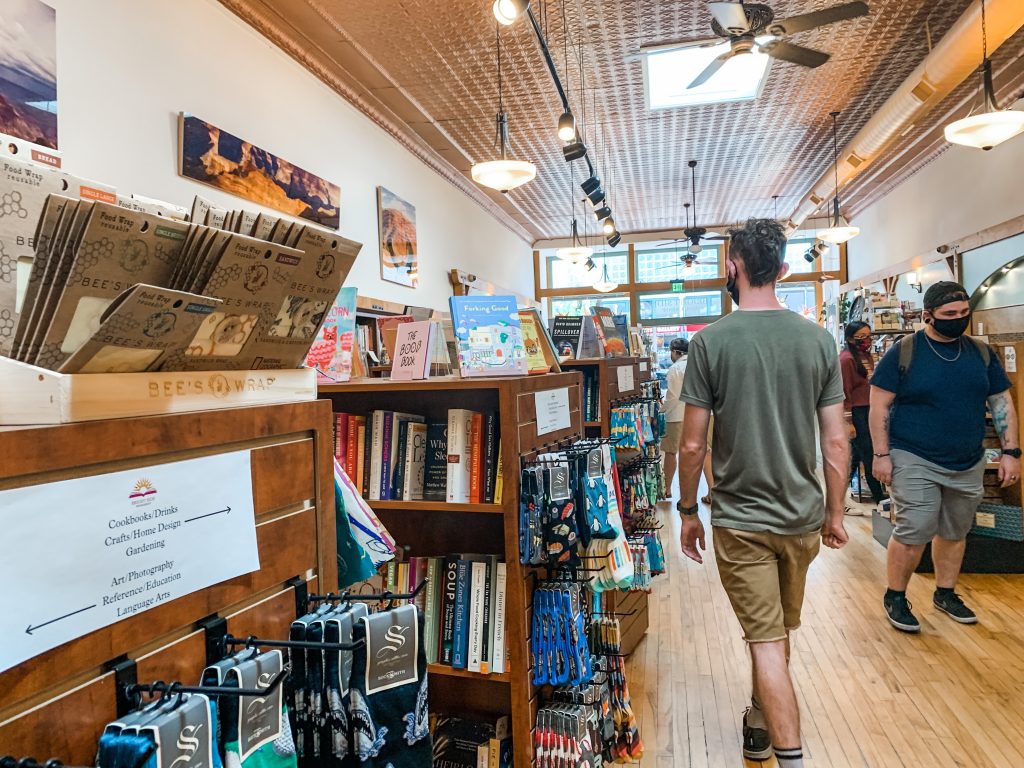 The other cool spot we visited was the Old Town Shops. It's a building with a few locally-owned shops and a BBQ restaurant. I would definitely recommend stopping here as there is a shop for everyone and you can support local businesses! It took everything I had to not spend a ton of money. I bought new face masks, a Schitt's Creek magnet, and sunglasses. Oh! We also bought chocolate covered pretzels! This was our last stop of our trip. It was a great way to end our weekend in Flagstaff because after walking through campus and all of the shops in here, our feet were so tired.