A 3 Ingredient Marg' to Put a SPRING in Your Step
Please give me a chance to redeem myself after that terrible pun. I gave up alcohol for the past 40 days, so we can blame my joke on the mimosas I enjoyed at Easter Brunch (or the margaritas that I enjoyed after). In all seriousness, I've been craving margaritas since the weather in Arizona went above 70 degrees. I was so excited to make some on Easter that I went and bought a bottle of tequila a few days ago, just to have it explode in my car. But, like the mythical Hydra, when you lose one bottle of tequila, you buy two more to replace it. Without further ado, here is my first drink of the summer, a 3 ingredient marg…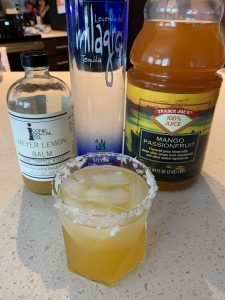 Ingredients
2 (or 3 oz) White Tequila
1 oz Mango Passion fruit Juice
1 oz Lemon Cocktail Syrup
Ice
Margarita Salt
Tools
Cocktail Shaker
Strainer
Jigger
Plate
 Lowball Glass
Steps
Pour out a portion of margarita salt onto a plate.
Wet the rim of your glass. Rub the wet rim into the salt to line the glass.
In the shaker, pour in all cocktail ingredients (except for the salt, obviously).
Shake shake shake!
Put a fair amount of ice in your glass, then pour your cocktail through the strainer and into your glass.
Top with more juice.